Main content starts here, tab to start navigating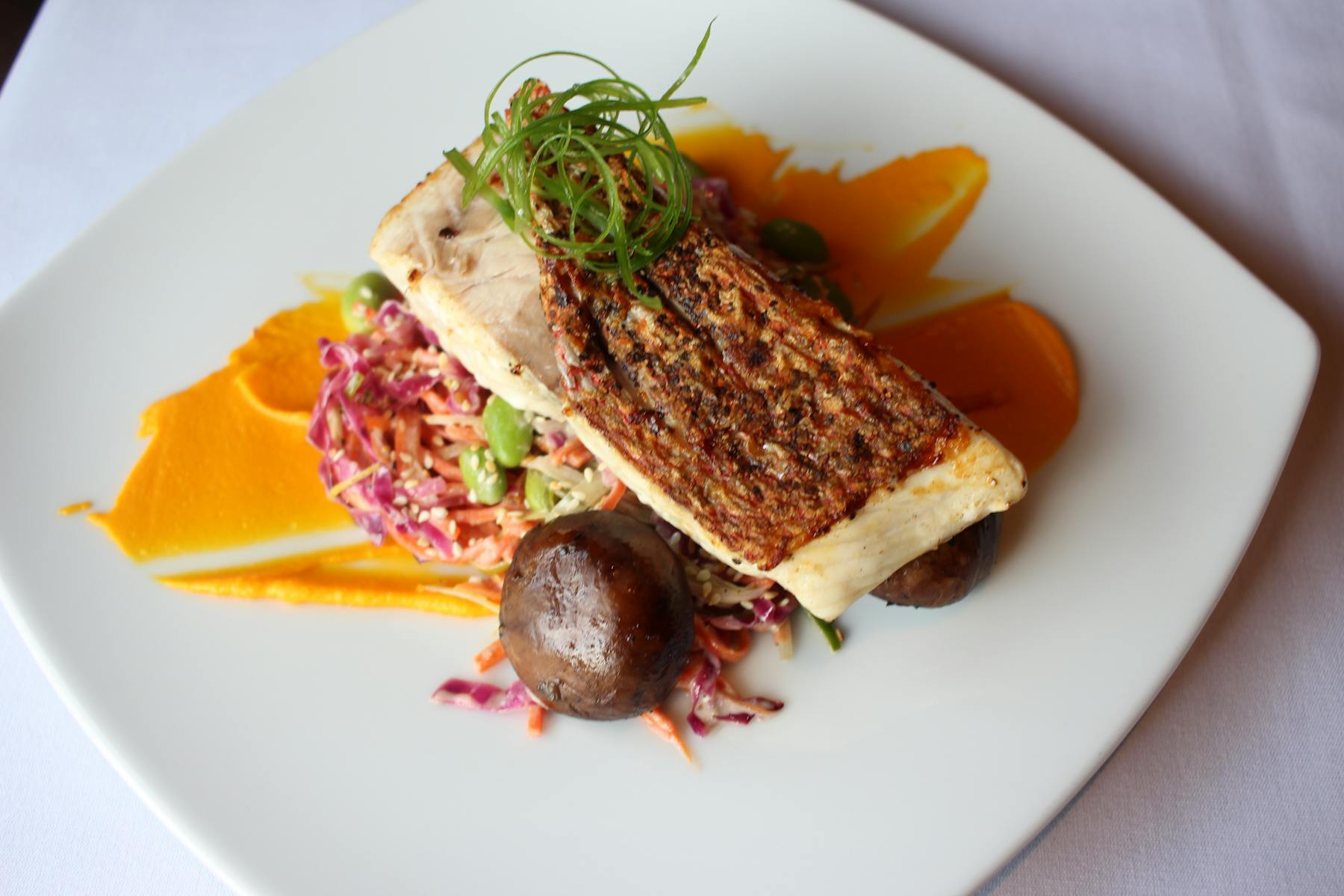 Slide 1 of 7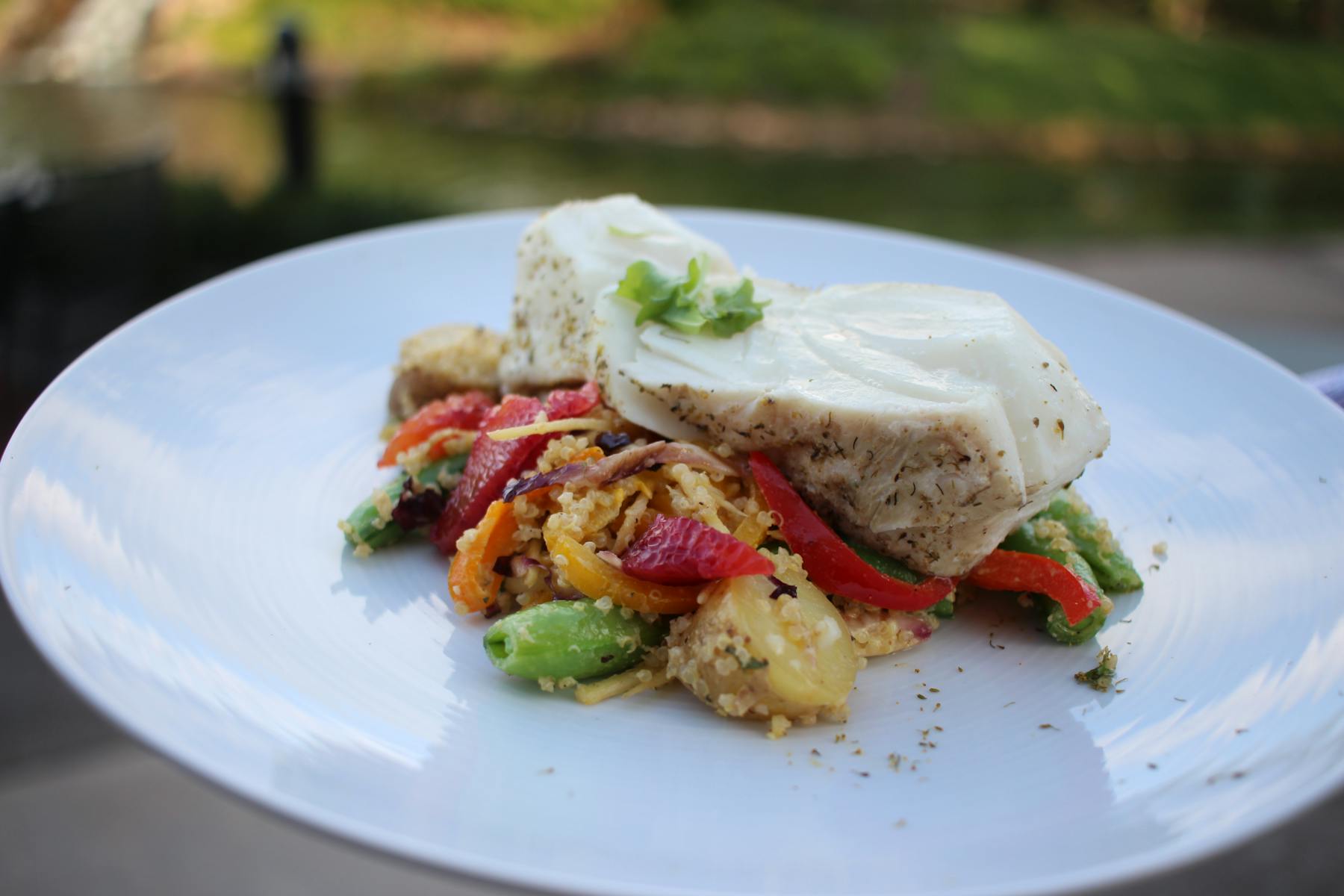 Slide 2 of 7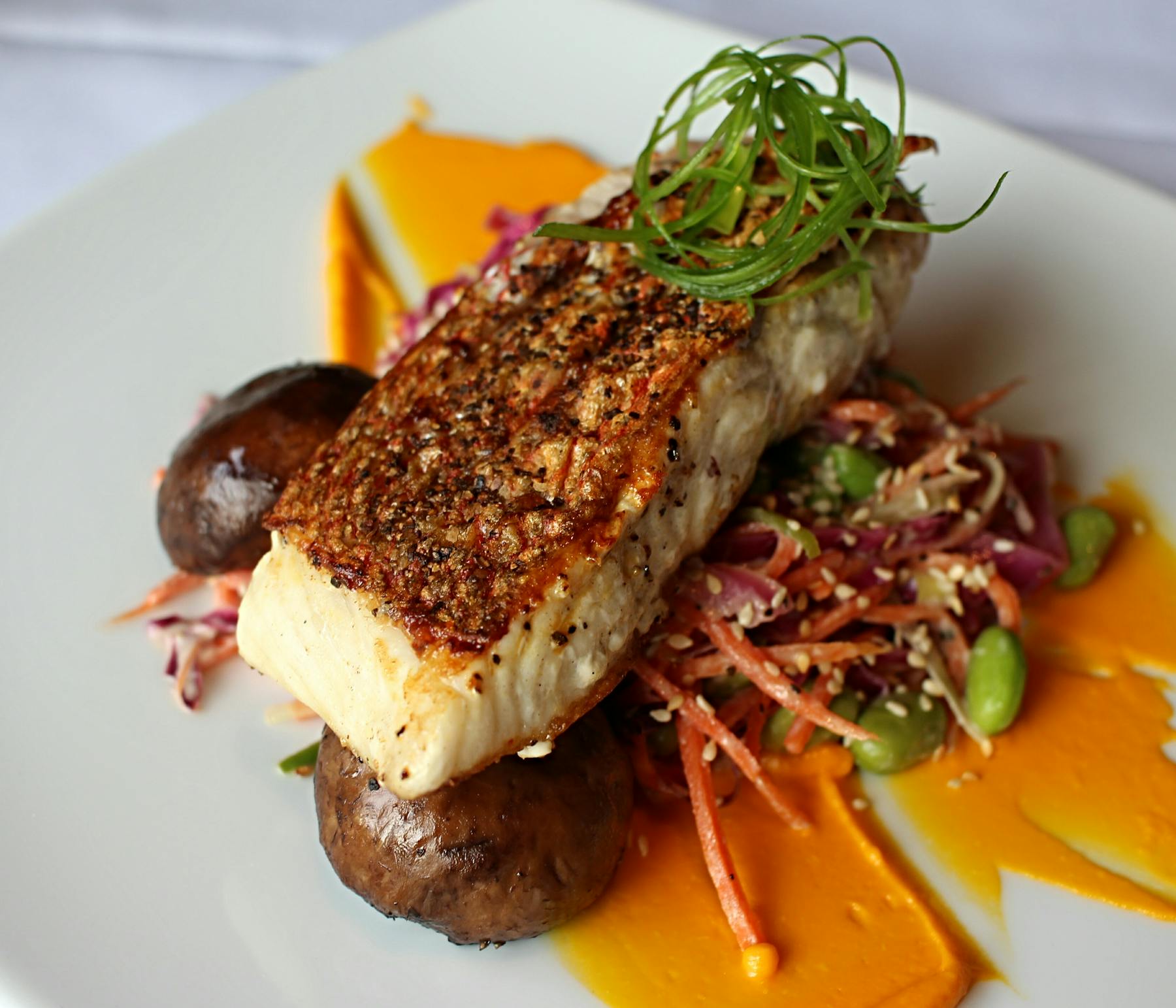 Slide 3 of 7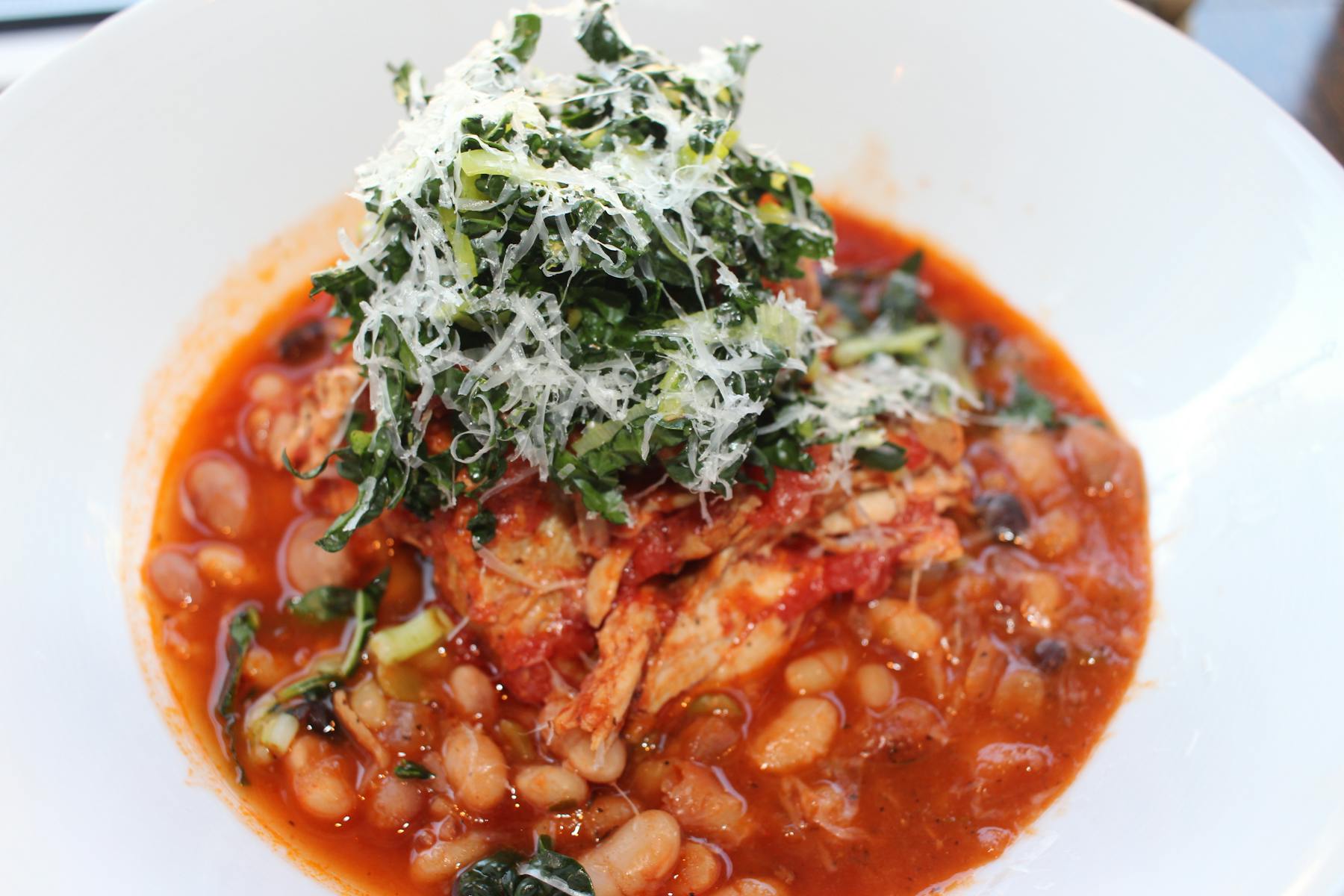 Slide 4 of 7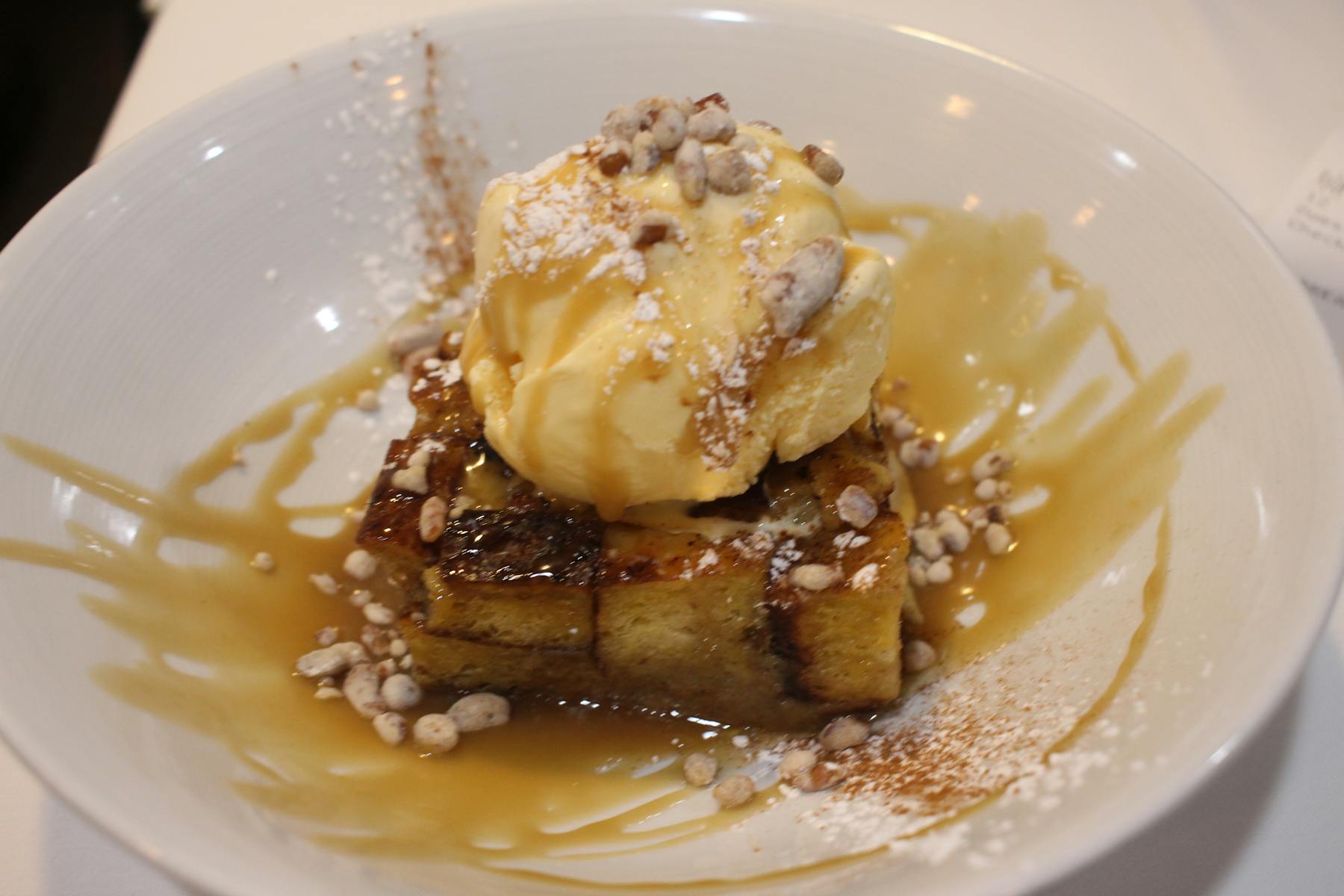 Slide 5 of 7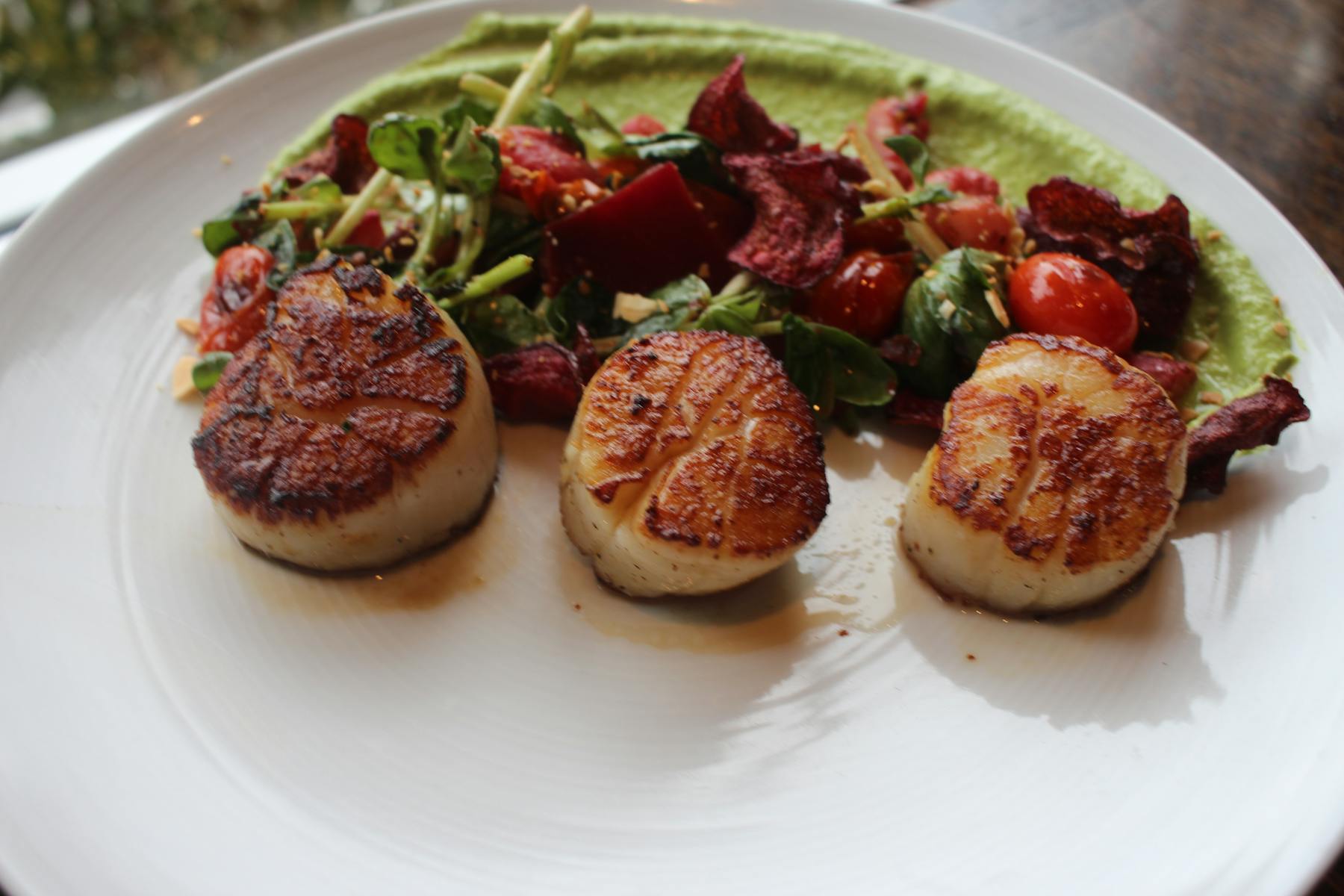 Slide 6 of 7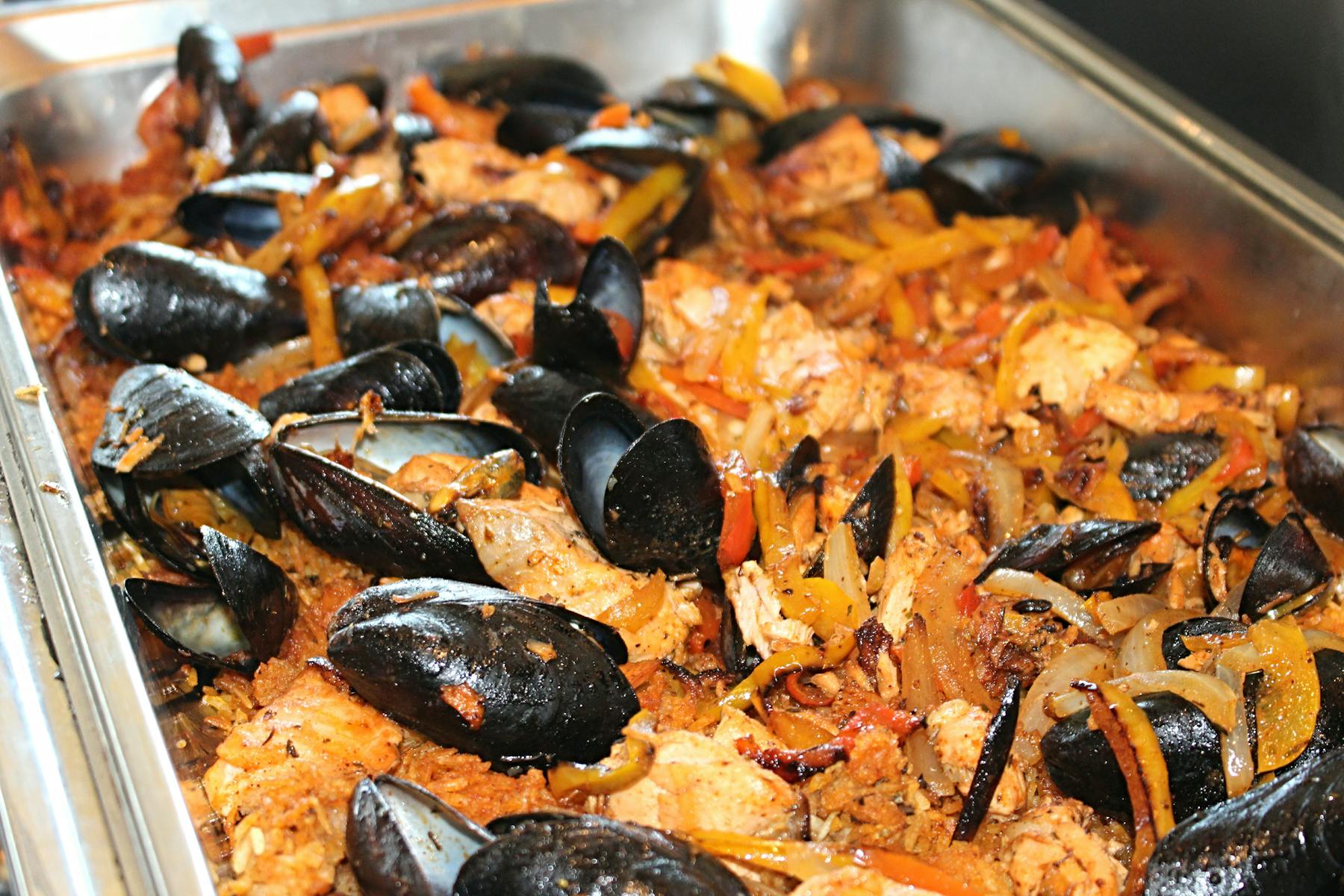 Slide 7 of 7
Small Plates
Belgian-Style Mussels

wheat beer, cream, garlic, fennel, pomme frites

$13

Hawaiian Ahi Poke

avocado, sesame seed, macadamia nut, red onion, grape tomato

$13

Seared Beef

marinated beef tenderloin, beet hummus, grilled pita

$14

Smoked Artichoke Dip

marinated & smoked artichokes, bacon, aged cheddar

$12

Jumbo Shrimp Cocktail

house-made cocktail sauce, avocado, pea sprouts

$18

gluten free

Steak Tartare

hand-cut beef, whole grain mustard, egg yolk, capers, crostini

$11

Fresh Ricotta

house-made ricotta, olive oil, marinated olives, focaccia

$11

Crab Cakes

two fried crab cakes, sweet corn, saffron aioli, arugula, orange supremes

$16

Rock Shrimp Cigares

mascarpone, pineapple mostarda, fresno chili, daikon radish

$14

Calamari

roasted red pepper marmalade, sweet basil aioli, microgreens

$13

Ceviche

daily selection of cured seafood and fresh seasonal ingredients

$10
Oyster
cocktail sauce, mignonette & lemon | half dozen $19 | dozen $34
Pink Moon

p.e.i., canada | cream meats with a perfect balance of salt and mineral

Malpeque

p.e.i., canada | crisp and delicate with high salinity

Fanny Bay

vancouver, b.c | mild brine, pronounced cucumber finish

Barcat

chesapeake bay, va. | mild brine, clean and crisp finish

Cranberry Creek

south puget sound, wa | mild brine, crisp & clean, honeydew finish
Greens & Soups
Wedge

iceberg lettuce, maytag bleu cheese dressing, avocado, onion, crispy bacon

$8

gluten free

Caesar

romaine, caesar vinaigrette, parmesan, sweet pepper juice, crouton

$7

with shrimp $12

with chicken $11

Bartlett Pear & Bleu Cheese

avocado, candied pecans, bacon dijon vinaigrette

$8

gluten free

Arugula

fennel, celery, pomegranate, goat cheese, apple, sherry vinaigrette

$8

gluten free

Baby Kale

curried cashews, parmesan cheese, turkish apricot vinaigrette.

$8

gluten free

Newport Clam Chowder

clams, potato, celery, crispy bacon

$7

gluten free

Chef's Soup of the Day

a fun daily selection using seasonal ingredients

$7

Salmon Salad

pine nut, goat cheese, balsamic vinaigrette, roasted red pepper

$16

gluten free

Lobster Cobb

maine lobster, bacon, avocado, egg, cucumber, buttermilk ranch

$20

gluten free
Fresh Catch
featuring wild-caught & sustainable fish delivered to your table.
Alaskan Cod

dill creme fraiche

$24

Scottish Salmon

cherry tomato compote

$31

Pacific Swordfish

basil pesto

$33

Maine Lobster Tail

clarified butter

$45

Idaho Ruby Red Trout

olive tapenade

$24

Hawaiian Ahi Tuna

sweet chili sauce

$37

Pick Two

quinoa

asparagus

green beans

whipped potatoes

spaghetti squash

delicata squash
Sea & Air
Pacific Mahi Mahi

butternut risotto, prosciutto, spiced chili pecans, house-made ricotta

$32

Scallops & Pork Belly

japanese potato, bok choy, shiitake, szechuan sauce

$36

Pacific Swordfish

sweet corn, spanish chorizo, cream cheese, chili butter

$31

gluten free

Alaskan Cod

"en papillote" squash, shiitake mushroom, citrus buerre blanc

$26

gluten free

Scottish Salmon

house-made ricotta ravioli, pine nuts, radicchio, balsamic reduction

$33

Hawaiian Ahi Tuna

crispy brussels sprouts, quinoa, tart cherry beurre noisette

$39

gluten free

Ruby Red Trout Amandine

green beans, garlic couscous, almond brown butter

$26

Miller Farms Chicken

israeli couscous, garbanzo, kalamata, caper berry jus

$22

Chicken Alfredo

hand-cut fresh pasta, parmesan cream sauce, egg, parsley

$17

sub shrimp $20
Steak & Chops
locally sourced beef & pork
Yoder Pork Chop

white polenta, honey, braised arugula, wild berry gastrique

$28

gluten free

16 oz. Ribeye

hand cut, bleu cheese croquettes, broccolini, au poivre

$37

Bistro Steak

center cut kc strip, pomme frittes, asparagus, maitre d' butter

$32

gluten free

Filet Mignon

8 oz. filet, whipped potatoes, green beans, zinfandel demi-glace.

$42

gluten free

black pepper & bleu cheese crusted $45

jumbo lump blue crab crusted, bearnaise sauce $49

add a maine lobster tail for an additional $45
Other items may be modified to be gluten-free, please ask your server.
Vegetarian
Spring Vegetables

blanched broccolini, pickled Fresno chilis, golden raisins, arugula, romesco

$16

gluten free

Avocado Quinoa Cake

avocado emulsion, arugula, tart cherries, fennel

$18

gluten free

Ricotta and Pine Nut Ravioli

fresh ricotta, balsamic glaze, radicchio, grilled asparagus

$16

Classic Fettuccine Alfredo

parmesan, shallots, cream, garlic, house-made pasta

$14

gluten free
Dessert Menu
suggested wine pairing
Apple Almond Bread Pudding

brioche, almond granola crunch, bourbon caramel sauce vanilla, ice cream.

$19

2007 dolce "late harvest" napa valley, california. (bottle) $110

Classic Creme Brulee

vanilla custard & caramelized sugar

$8

2011 chateau guirad sauterness, grand cru, bordeux, france (bottle) $115

Bittersweet Chocolate Beignets

chocolate filled petite beignets & espresso creme anglaise

$6

terra d'oro zinfandel port, amador co. california (glass) $8

Peanut Butter Bomb

chocolate dome chocolate cake peanut butter mouse, peanuts & marshmallow

$8

2011 croft vintage tawny porto, portugal (glass) $24

Dessert Sampler

chef's pick of our featured desserts

$28

taylor fladgate port flight 10yr, 20yr, 40yr, quinta de vargellas portugal (glass) $23

Citrus Cherry Cheesecake

lemon thyme shortbread, cherry, apricot, and orange coulis

$8
After Dinner Cocktails
Newport Russian

choose any flavor: black, white, banana, raspberry, nutty

$6

Candy Bar Martini

snicker-esque blend of vanilla vodka, creme de cacao, hazelnut liqueur, crushed nuts.

$9

Chocolate Cherry Mash

vanilla vodka, cherry brandy, creme de cocoa

$9

After Dinner Coffees

infused coffee liqueur, coffee, blended with your choice of these flavors: cafe newport/ice cream, cafe azteca/spiced, caramelo/caramel, mochafe/chocolate
Happy Hour
Monday - Thursday kitchen closes at 10 | Sunday kitchen closes at 9
Martinis

house-made martinis

$5

Cocktail

house-made cocktails

$5

Well Cocktails

$2.50

Domestic Beers

$2.50

House Wine

$6

Reyka Vodka Cocktail

$6

Hendricks Gin Cocktails

$6
Sunday & Monday Wines
Only 15

riebeek, chenin blanc, south africa

oak grove, chardonnay, california

oak grove, cabernet, california

Only 20

col di rocca, prosecco, italy

giacondi, pinot grigio, italy

chateau souverain, sauvignon blanc, california

montevina, white zinfandel, california

deloach, pinot noir, california

Only 30

reunion, torrontes argentina

bouvet, sparkling rose france

wild flowers, pinot noir france

e5, red blend california

amauta, cabernet argentina

Only 40

empire, riesling, new york

mt beautiful, sauvignon blanc, new zealand

santa margarita , pinot grigio italy

neal, zinfandel napa valley, california

banfi, sangiovese tuscany, italy

daniel cohn, cabernet california

decoy, cabernet sonoma, county
Small Plates
$1.25 east coast oysters
Smoked Artichoke Dip

marinated & smoked artichokes, bacon, white cheddar

$9

Rock Shrimp Cigares

melted leeks, pineapple mostarda, fresno chili, daikon radish

$11

Steak Tartare

hand-cut beef, whole grain mustard, egg yolk, capers, crostini

$8

Fresh Ricotta

house-made ricotta, olive oil, marinated, olives, focaccia

$8

Ceviche

chef's daily fresh fish creation of citrus-cured seafood

$7

Ahi Tuna Poke

avocado, red onion, sesame seed, macadamia nut

$10

Crab Cakes

two fried cakes, saffron sherry dijon aioli, arugula, orange, fennel

$13

Calamari Frittes

mango marmalade, chipotle aioli

$10

Seared Beef Tenderloin

rosemary balsamic marinated beef, beet hummus, grilled pita

$9
Brunch Cocktail Menu
Diy Mimosas

ask your server for details

$5

Makin' Bacon Bloody Mary

ol' major bacon-flavored bourbon with our house-made bloody mary mix & a maple sugar-coated bacon slice

$10

Basil Bloody Mary

house infused basil vodka, house-made bloody mary mix, basil salt rim, bleu cheese olive, & lime

$5

X-Rated Bloody Mary

house-infused tomato vodka with an olive jalapeno & lime

$5

x - hot

xx - spicy

xxx - very spicy

Champagne Cocktail

house champagne with house-infused simple syrup

$3

Vodka Jam Fizz

house vodka with white cranberry and a house-made jam shaken and topped with champagne

$5

Infinite Moneky Can Wine

white, red, or rose- 250 ml

$8

Aperol Spritzer Pitcher

aperol, sparkling wine, orange twist

$25
sommelier selections: alicia elleman's favorite unique & amazing picks
Bubbles & Blush
Col Di Rocca, Prosecco Susegana, Italy

glass $13

bottle $39

Cote Des Roses, Rose, Sud De, France 2018

glass $15

bottle $45

Bouvet, Sparkling Rose, Loire Valley, France

glass $15

bottle $45

Gimonnet Gonet, Blanc De Blanc, Le Msenil Sur Oger, France, Nv

bottle $95

Taittinger, Champagne, Reims, France, Nv 375 Ml.

bottle $50

Roederer Estante, Sparkling Wine, Anderson Valley, California, Nv

bottle $80

Dom Perignon, Champagne Reims, France, 2009

bottle $275

Montevine, White Zinfandel Amador Country, California 2016

glass $7

bottle $21
Sweet & Sassy White
Stella Rosa, Moscato, Stefano Belbo, Italy 2017

glass $10

bottle $30

Villa Jolanda, Moscato | Pineapple Spumante, Italy, 2015

glass $10

bottle $30

Clean Slate, Riesling Mosel, Germany, 2017

glass $9

bottle $27

Stirm, Riesling, Santa Barbara, California, 2016

glass $13

bottle $39
Crisp & Delicious
Giacondi, Pinot Grigio Forli, Italy, 2017

glass $9

bottle $27

Pascal Jolivet, Sancerre Loire, France, 2017

Bottle $72

Monte Volpe, Pinot Grigio, Mendocino County, California, 2016

glass $9

bottle $27

Chateau Souverain, Sauvignon Blanc, California, 2017

glass $11

bottle $33

Mt. Beautiful, Sauvignon Blanc, North Canterbury, N.Z, 2016

Bottle $50

Sea Monster, White Blend, Paso Robles, California, 2016

glass $12

bottle $36

Grove Mill, Sauvignon Blanc, Marlborough, N.Z. 2018

glass $11

bottle $33

Livio Felluga, Pinot Grigio, Alto Adige, Italy, 2015

bottle $72

Santa Margarita, Pinot Grigio, Alto Adige, Italy, 2018

bottle $69

Craggy Range, Sauvignon Blanc, Martinborough, N.Z. 2018

bottle $65
Rich & Round
Ryan Patrick, Chardonnay, Columbia Valley, Washington 2016

glass $10

bottle $30

Riebeek Cellars, Chenin Blanc, Swartland, South Africa, 2016

glass $8

bottle $24

Steel, by Louis Jadot, Chardonnay Burgundy, France, 2015

bottle $50

Le Clos Blanc, Premier Cru, by Louis Jadot, Chardonnay Beaune, France, 2016

bottle $120

Talbott, Chardonnay, Kali Hart, Monterey, California, 2015

bottle $55

Dunham Cellars, Chardonnay, Columbia Valley, Washington, 2015

bottle $65

Trim Chardonnay, California, 2017

glass $9

bottle $27

Mer Soleil Chardonnay, Santa Barbara, California, 2015

bottle $48

Knockoff Chardonnay, Healdberg, California, 2015

bottle $1,133

Jordan Chardonnay, Oakville, California, 2015

bottle $85

Far Niente Chardonnay, Oakville, California, 2016

bottle $96

Newton Chardonnay, Napa, California, 2015

bottle $105
Soft & Sexy
Deloach Pinot Noir, Napa, California, 2017

glass $12

bottle $36

Wildflowers, Pinot Noir, Pays D' Oc, France, 2017

glass $13

bottle $39

Elouan, Pinot Noir, Willamette Valley, Oregon, 2017

glass $15

bottle $45

Justin Girardin, Premier Cru, Pinot Noir Santenay, France, 2015

bottle $85

Merry Edwards, Klopp Ranch, Pinot Noir Rrv, California, 2015

bottle $135

Domaine Serene, Pinot Noir, Willamette, Oregon, 2016

bottle $98

Louis Jadot, Pinot Noir, "Clos de Malte", Beaune, France, 2016

bottle $94
Rich & Radiant
Marcel, Malbec Cotes Du Lot, France, 2017

glass $13

bottle $39

Estampa, Malbec | Syrah Colch Agua Valley, Chile 2017

glass $9

bottle $27

Anciano Grand Reserva, Tempranillo Valdepenas, Spain , 2006

bottle $35

Columbia, Merlot Columbia Valley, Washington, 2016

glass $12

bottle $36

Raymond, Merlot Napa Valley, California, 2014

bottle $78

Tate, Merlot Calistoga, Napa Valley, California, 2016

bottle $80

Catena Zapata, Malbec | Cab Blend Mendoza, Argentina, 2011

bottle $180

Cuvelier Los Andes, Malbec Mendoza, Argentina, 2013

bottle $110
Spicy & Sultry
La Fervent, Syrah, Rhone Valley, France, 2014

bottle $51

Maddalena, Zinfandel, Paso Robles, California, 2016

glass $16

bottle $48

Banfi, Rosso Di Montalcino, Sangiovese, Tuscany, Italy, 2016

Bottle $68

Pierre Amadieu Grenache | Syrah Vacqueyras, France, 2017

glass $50

Artezin, Zinfandel, Mendocino County, California, 2017

glass $14

bottle $42

Trione, Zinfandel, Sonoma Coast, California, 2014

bottle $80

Neal, Zinfandel, Napa Valley, California, 2015

bottle $60
Incredible Blends
E5 by David Phinney, Grenache | Tempranillo, California, 2015

glass $17

bottle $51

Chateau Bel Air, Red Blend, Haut-Medoc, France, 2014

bottle $59

Chappellet, Cuveem, Red Blend, Napa Valley, California, 2017

bottle $72

The Prisoner, Red Blend, Napa Valley, California, 2017

bottle $95

The Archimage, Red Blend, Columbia Valley, Walla Walla Wa, 2014

bottle $90

Chateau de Montmirail, GSM, Gigondas, France, 2012

bottle $82

Vieux Telegraph, Chateauneuf Du Pape, France, 2016

bottle $140

Hg III, Estate, Red Blend, Napa Valley, California, 2015

bottle $72

Pahlmeyer, Red Blend, Napa Valley, California, 2014

bottle $250

Insignia, Estate, Bordeaux Style Blend, Napa Valley, California, 2014

bottle $280
Big & Bad
Belle Ambiance, Cabernet Napa Valley, California, 2017

glass $9

bottle $27

Daniel Cohn, Bellacosa, Cabernet, Sonoma, California, 2016

bottle $60

Amauta, Cabernet Salta, Argentina , 2018

glass $11

bottle $33

Double J, Cabernet, Napa Valley, California, 2016

bottle $92

Vista Reserve, Cabernet, Napa Valley, California, 2017

bottle $55

Decoy by Duckhorn, Cabernet, Sonoma County, California, 2016

glass $20

bottle $60

Experience, Cabernet, Napa Valley, California, 2015

bottle $65

Jordan, Cabernet, Sonoma County, California, 2017

bottle $150

Caymus, Cabernet, Napa Valley, California, 2017

bottle $150

Silver Oak, Cabernet, Alexander Valley, California, 2013

bottle $135

Trione, Cabernet, Alexander Valley, California, 2013

bottle $145

Witchery, Cabernet, Oakville, Napa Valley, California, 2015

bottle $190

Darioush, Cabernet, Napa Valley, California, 2016

bottle $195

Cade, Cabernet, Howell Mountain, Napa Valley, California, 2016

bottle $160